NARC Magazine - November 2014
No hairpiece required.
My reviews for this month's NARC: check back here soon for my interview with John Grant.
Albums
Ariel Pink - pom pom
From his early years as a lo-fi auteur to his more recent breakthrough records on 4AD, Ariel Pink has thrived on a combination of skewed humour and unusual sincerity – even when he seemed to be taking the piss, there was always a genuine passion and craft behind it. On this new double album though, it's hard to avoid that his persona has become creepy and overbaked. There's still some gleefully infectious melodies as on White Freckles, but the album is weighed down by a preponderance of bad, overlong joke songs and – on the nadir of Black Cheerleader - leering misogyny. It's not the sound of pom pom that's the problem, so much as the increasingly unlikeable attitude behind it.
2/5
Lives
The Phantom Band, Gulp
The Sage Gateshead (26/09/14)
Gruff Rhys has inevitably received the most attention for his post-Super Furry Animals work, but that's not to say his erstwhile colleagues haven't been busy either. Bassist Guto Pryce has been keeping busy with his new band Gulp, who bring their sun-speckled rock to Gateshead on their first night supporting The Phantom Band. Lindsey Leven's fine vocals and synth work adds a charming retro-futurism to their Wendy & Bonnie influenced compositions for a set that adds some sunshine to the start of autumn.
While their three records to date have never quite fulfilled all their ambitions, The Phantom Band's live show has always delivered in abundance, and tonight is no different. The six-piece gain a greater heft in the flesh, their blend of folk, Krautrock, electronica and alt-rock feeling far more fluid and natural than on their studio work. Older songs like Folk Song Oblivion gain as much in the transition as new work like Clapshot, and that they pull off their complex, knotty compositions with such ease only makes it more impressive.
If the band seem confused by the polite reception they receive at the start, some members of the crowd are happy to oblige and make them feel more at home – if you actually understood quite what the disgusted reply was after they chose Dundee United over Dundee in response to an audience question, then postcards to the usual – and by the time of the superb set-closer Women of Ghent, the whole room is shouting for more.
The Besnard Lakes, Bird, High Tide 15:47
The Cluny (28/09/14)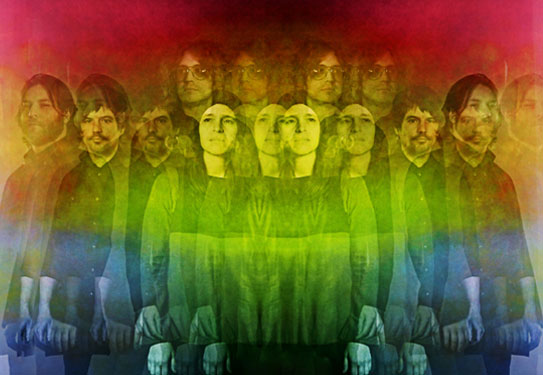 Representing the Newcastle circuit tonight are High Tide 15:47, who've been getting plenty of attention lately for their debut EP. On record they lean towards more of a shoegaze/dream-pop sound in common with the rest of the bill, but tonight it's closer to nineties emo than anything – great if you're into that sound, but given this reviewer's long-standing distaste for that style, it's perhaps not what I had come down early hoping for. Maybe it's me, not them.
Bird have been gathering impressed notices for this year's debut album My Fear and Me, and their set certainly delivers, the Liverpool quartet delivering a heavier, moodier take on the more ethereal sounds of the likes of Deerhunter and Warpaint. A peculiar cover of I Wanna Be Adored might raise the tempo, but it's their own material that impresses the most, delivered with a gravity and passion not always found amongst their pedal board staring peers.
The Besnard Lakes have often found themselves placed alongside acts like Low, but on this form their widescreen rock is closer to Neil Young put through a Cocteau Twins filter. Jase Lasek and Olga Goreas trade vocals and songs to powerful affect, Lasek's high pitched soars complemented by Goreas' more direct approach, just as the juxtaposition of the glorious languor of The Specter with the direct pop rush of People of the Sticks (boasting an astoundingly catchy, how-did-nobody-write-this-before chorus) also enriches their performance. Even with some unfortunate technical gremlins, The Besnard Lakes take flight in The Cluny.
Goat, Lay Llamas
Northumbria University (29/09/14)
In their way, Lay Llamas are the platonic ideal of a support act: their hazy take of psychedelic rock fits in with the headline act like a glove, but it's all so understated that there's never any risk of them being blown off stage either.
Goat's rise to prominence has been a genuine word of mouth sensation, and the mix of greying hippies in weather-worn Can shirts and wide-eyed students in the crowd suggests they've stumbled on something hitherto-lacking from the circuit.

It's a hell of a show they put on as well, two masked female vocalists doing their finest Grace Slick in a wind tunnel impression while the band behind them blends Afrobeat grooves with snaking leads and thunderous percussion – when they sink their teeth into an extended Run To Your Mama or recent single Hide From The Sun, it's a glorious whirlwind of sound.
But there's the elephant in the room. Goat's desire to put on a visual spectacular is admirable, and pantomime has long been one of the cornerstones of rock. The band clearly has a great love for the sounds and cultures they riff on – you don't get music this detailed, this intricate, this plain alive otherwise – but their pseudo-ethnic dress-up leaves one wondering if the amps are being powered by the furious rotation of Edward Said's bones. Their stunningly naïve take on appropriation sadly undermines the inclusive message of their music, and until the band becomes willing to address it, it'll remain a fatal flaw.
Crocodiles, Gäy, Them Things
Cluny 2 (06/10/14)
Polished, polite and presentable: yeah, Them Things are an anomaly on this bill alright, and not in a good way. It's all very well played and very professional, but when even the band don't seem to know what they're going for, it's hard to find much to invest in.
Operating at the other extreme of things are Danish newcomers Gäy (yes, with umlauts). Quite possibly the least cool looking band I've ever had the privilege to witness, they belt out a set of basic, rough punk like The Gun Club with the tuning of The Shaggs, complete with a vocalist whose marble-garbling howls make Iceage sound like 'Ol Blue Eyes himself. Their recorded output is disappointingly tame (largely thanks to such commercial concessions as 'having the guitars in tune with each other'), but this is one of the most gleefully fun and raw sets I've seen in a very long time.
Back in Newcastle once more, Crocodiles rock up as a stripped-back four-piece tonight. Although the lack of organ is sometimes felt, this latest re-shuffle is just the latest step in their ongoing shift towards concision, with the band debuting a clutch of new and suitably sharp material alongside the best cuts from last year's Crimes of Passion. As inventive as a brick, yes, but when they're still putting on performances like this, it's churlish to complain: besides, as they encore with an agreeably daft wedding-band take on (I Can't Get No) Satisfaction, Crocodiles are as in on the joke as anyone.