Leonard Cohen - Popular Problems
Cures for common complaints.
An example of irony, Leonard Cohen style: he finally gets round to writing a song in which he declares "it's not because I'm old, it's not because I'm dead / I've always liked it slow, that's what my mama said" in the midst of his most prolific burst of performing and recording since the idealised sixties tipped over into the unloved seventies. It's a lyric that's almost too apt - the infamously lengthy song-writing process and generous gaps between recordings, the spacious, languorous arrangements he often favours, and above all his remarkable longevity - yet arrives at a point where Cohen seems almost at pains to disprove it. Popular Problems comes (by Cohen standards at least) hot on the heels of the hugely successful Old Ideas and accompanying world tour, reprising some of the gentle sonic motifs of that record but also reaching back towards some of the pop and electronic sounds he found such inspiration in on Various Positions and I'm Your Man. It's a tasteful record from a tasteful man that's still happy to get its feet wet: if there is an up-side to that garish nightmare of a cover, it's that in his old age Cohen has acquired a charmingly daft sense of humour.
Released in tandem with the 80th anniversary of Cohen's birth -
joyeux anniversaire,
monsieur
Cohen! - Popular Problems arrives at a time when Cohen's place high up in the tower of song has never been more secure. After decades as a cult idol, in his dotage he's finally found mass success: he's toured the arenas of the world to sell-out crowds, while Old Ideas was only kept off the top spot over here by the financial might of the Lana Del Ray machine. If plenty of artists have found themselves blunted by such adoration, Popular Problems succeeds as a stark refutation of complacency or tired platitudes. It's an album that matches some of his most bleak and apocalyptic lyrics since The Future to some lively and surprising musical choices, mirth hidden behind a stony facade and fury within a cynical joke.
A fair amount of the credit for the more surprising musical choices of the album must surely go to Cohen's key collaborator this time round, Patrick Leonard. As producer and co-writer on seven of the album's nine songs, he's as important to the work as Cohen's long-time collaborator Sharon Robinson was on their co-written release Ten New Songs. While the four songs Leonard co-wrote for Old Ideas were amongst the more sparse on that album - the hymnal turns of Show Me the Place and Come Healing, alongside the bare-bones jazz of Anyhow and the lodestone Going Home - here he marries that same restraint to a more modern sound palette that, if not quite placing Cohen in a top 40 context, certainly moves him far closer than might have been expected. Grooving organ lines and quiet drum machines power many of these songs, the only remnant of Cohen's current live sound being the ubiquitous female backing vocals and the occasional burst of violin. The popular in the problems, if you're feeling cute, but we have Leonard to thank for helping to speed up Cohen's infamously tortured process of writing and revision, and for adding some of the wrinkles that make this another distinct entry within the Cohen canon.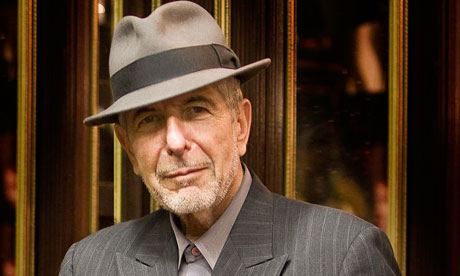 From a purely musical stand-point, two songs stand out as intriguing experiments. Hitting the button marked 'final inevitability' on the switchboard of diversions with which to handle the second, third, fourth and fifth puberties to have struck Cohen's now unfathomably deep voice, Did I Ever Love You goes for the classic Tom Waits containment strategy of bar-room piano accompanying a guttural vocal take. Cohen takes an audible relish in delivering an astoundingly phlegmatic performance, granting his probing reminiscences a drunkard's authority. Yet for the chorus, the track suddenly veers off into sped-up country rock as the backing singers take the reins - an interesting call-and-response that makes a certain thematic sense, but is just too damn clean and precise to really work. This had to be a down and dirty trade-off: instead it sounds like what it is, a bunch of sessionists inexplicably indulging in a few Mumford-isms. Far more successful though is Nevermind, one of the most up-tempo pieces here. A stomping bass drum and synthesised horns take the reins as Cohen intones the latest addition to his war-as-romance, romance-as-war series (see almost all of New Skin for the Old Ceremony), adding a fine urgency to Cohen's gritty, blunt lyric before the chorus concludes with a sudden muezzin call singing 'peace upon peace' - a reminder of the terrible, bloody stakes upon which the fight for peace and tolerance is fought.
The great appeal of a new Cohen album will always lie in the lyrics, and here he provides one of his more outward-looking, politically incisive efforts. Almost Like The Blues is a dark panoramic take of the numerous ways in which mankind continues to maim itself, and of the choice between numbing one's heart to cope with the pain or of continuing to hope for a kind of salvation, Cohen's dark jest that "there's torture and there's killing / and there's all my bad reviews" the only sugar to ease it down. Samson in New Orleans is a powerful take on the destruction that Katrina wrought, and one that notably targets the political and structural failures that so badly let the people of the city down in its wake, the only answer on offer being to "take the temple down".
Of particular note are the two non-Leonard co-writes here, both songs that have been germinating for a long time. A Street, co-written with Anjani Thomas, provides a fuller response to September 11th than Cohen previously delivered on Dear Heather's On That Day that locates it within the litany of modern atrocities ("I see the Ghost of Culture / With numbers on his wrist") and rejects the return to triumphalism that, of course, proved one of that day's most enduring legacies. Most exciting for Cohen fans is the album's sole solo composition, the long in the works Born In Chains. It's been previewed live in different forms, and given that Cohen has allegedly been re-writing the lyrics over forty years, it's perhaps unsurprising that he's claimed a lack of satisfaction with the recorded product, suggesting that further touring might be necessary to finally hone it into shape. He's correct in that it isn't quite a masterpiece as perfectly tuned as Suzanne or Anthem, but it's a remarkably powerful lyric regardless, a grand exposition of Cohen's theological position delivered through the tale of Exodus, a song that tells of grand knowledge and unavoidable ignorance. His backing vocalists provide grand gospel backing, and the synthetic horns stay away: perhaps the road is needed (and certainly desired for any fan of his at any rate) to elevate it amongst the ranks of Cohen's all-time greats, but what we have here is exquisite already.
Popular Problems is not as full an artistic statement as Cohen's greatest triumphs like Songs of Leonard Cohen, Various Positions or I'm Your Man, but where it succeeds admirably is in its sense of urgency. For all the despair and human misery condensed into the lyric sheets, this is a record full of commitment and drive. Nine songs in thirty-six minutes is not a recipe for wallowing, and prevalent amongst everything on the album is the permanence of hope and the possibility of change. Cohen's admirable and continued interest to keep working on his sound is constantly audible thanks to the work of Patrick Leonard, and as the album concludes with the cautiously joyous You Got Me Singing, it's as clear as ever that Cohen's remarkable third act is not over yet. "You got me thinking I'd like to carry on" he states, and with a follow-up to this release already in the works, he's being true to his word. Rather than a loaded statement of finality, Popular Problems is just a snapshot of Cohen's continuing artistic journey, the sound of a truly great songwriter still confronting the great issues as he marches through his old age and refusing to settle, still challenging himself and producing superb work.