NARC Magazine, May 2014 - Ampline, Gruff Rhys, Polar Bear, School of Language and Yakamata // Sonic Titan
It's not even grim up north round this time of year.
Album Reviews
Gruff Rhys - American Interior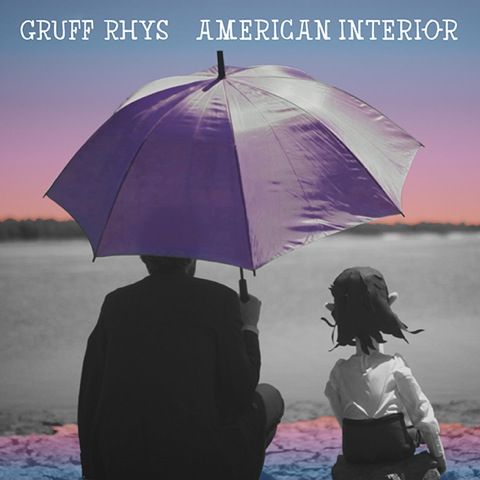 If you want to take a positive from Britpop, here's this: while Blur and Oasis raced up the charts, the music industry was able to direct some of this money towards some genuinely brilliant and unusual talent. Just take Super Furry Animals as an example, an act that used the money to invest in their retrofitted 'Peace Tank' soundsystem, live shows that included twenty-minute rave freak-outs and a clutch of brilliantly diverse albums.
Super Furry Animals show no signs of returning from their seemingly final hiatus, but mainman Gruff Rhys has filled the void with a series of suitably idiosyncratic solo projects and collaborations, and for his fourth solo release American Interior, Gruff's embarked on something that's ambitious even for him.
Having started with an American tour that saw Gruff retracing the steps of an eighteenth-century relative, American Interior stretches across a film, a book and even an app. With all of this multi-media frenzy, it's hard not to worry that the music has become almost an after-thought, as with Bjork's fascinating but flawed Biophilia album.
While a fair amount of Gruff's trademarked eccentricities do seem to have been directed away from the album as a result – sonically, this is certainly the most straight-forward album he's ever been involved in – his grand melodic gifts remain fully intact. Tracks like the soft-rock inflected The Last Conquistador, the rockabilly pastiche of 100 Unread Messages or the wonderful centrepiece Liberty (Is Where We'll Be) occupy the same peculiar, heart-tugging space as Gruff's finest work, and his wonderful, warm singing voice is as fine as ever.
You may need the film or the book to get the backstory (a backstory which is certainly not required to enjoy the album), but American Interior the album is another rewarding work from one of Britain's finest working songwriters.
4/5
Yakamata // Sonic Titan – Uzu
The worlds of heavy metal and classical music and opera are not quite the polar opposites you might expect: numerous are the metal bands that have laid claim to Wagnerian might, not to mention the numerous dodgy goth acts that try and weld some pseudo-operatic wailing to proceedings. That said, the operatic metal that Canadian experimentalists Yakamata // Sonic Titan deal in is still bracingly strange stuff, the doomed-up Queen-isms of Whalesong bleeding into the psychedelic vortex of Lamia and the Buddhist meditation of Bring Me the Hand of Bloody Benzaiten. If there's a complaint to be made, it's that the band remain a better idea than a reality, but Yakamata // Sonic Titan are so gleefully strange that often that's still enough.
3.5/5
Live Reviews
Ampline - The Head of Steam, 15/04/14
Four bands for a fiver on a school night – what could go wrong with that? Well, not a bloody lot, it turns out. Knots set the tone for the night with their short, sharp shock of a set. The trio unleash winding, gritty songs that dwell within the darker undertows of hardcore, and their visceral set bodes very well for this new band.
Upping the ante further are Big Fail, whose loud and messy sound adopts the legacy of their un-spiritual sludge rock forefathers and compresses them down into bite-sized slabs of fury and riffs of jumbo-jet proportions. Clearly not everyone in attendance was ready for this racket, but really, that's just their loss.
Although their mannered take on post-punk and early garage rock marks Yellow Creatures out as the odd ones out on the bill, their increasingly muscular and charismatic performance style (not to mention the clutch of great material they've already amassed) lets them more than stand their own against the rowdier fare on tonight, and the increasingly psychedelic and strange sounds of their new songs is a true delight.
Mike Montgomery was in town last year as part of R. Ring, his collaboration with Kelley Deal, but this time he's here to launch an Ampline European tour. Sitting somewhere between the classicism of Built to Spill and the precise noise of Shellac, Ampline deal in fretboard fireworks dealt out with a nonchalant charm and deceptive ease, and their great closing set rounds off the night in grand style.
Polar Bear - The Sage Gateshead, 06/04/14
Commissioned to write a set of new material to celebrate the occasion of the tenth Gateshead International Jazz Festival, guitarist Chris Sharkey's new trio Shiver delivered a set that spared no pyrotechnics nor kitchen sinks, as Joost Hendrick's explosive drumming provided a launch pad for the wild explorations of Sharkey and bassist Andy Champion. Some of the set was thrilling, notably the high-wire guitar lines of Quickstep, but all too often it fell into tedious Steve Vai shredding and painfully overwrought song writing that felt deprived of air.
Polar Bear have been quiet for the last few years as their constituent members kept themselves busy with their own projects, but performances like this demonstrate the powerful magic they weave together. With much of the set drawing from their intricate and subtle new album In Each and Every One, Pete Wareham's (recently occupied with the barn-storming psych jazz of Melt Yourself Down) signature reed abuse was little in demand here.
Their slowly enveloping performance found Leafcutter John's electronics taking on a much more overtly melodic role than before as Wareham and Mark Lockheart's horns hung in exploratory languor, while bandleader Seb Rochford's idiosyncratic drumming kept changing and fracturing the material whilst retaining a sense of fragility. Album tracks like Sometimes and Be Free were given great readings, but it was a new work-in-progress piece (inspired by an encounter with a taxi driver writing an ever-expanding song for his wife) that demonstrated Polar Bear's inquisitive and emotional sound at its finest.
School of Language - The Cluny, 07/04/14
Original support Kieran Leonard might have had to pull out, but given David Brewis' shift towards self-described 'austere funk' for his latest album as School of Language, Leeds duo Galaxians provide a more than fitting replacement. Their drums and synths set-up has found favour with American labels Dither Down and rotating souls, but their gleefully retro dance music tilts far more towards the sophisticated Euro-cheese of producers like Lindstrom and Todd Terje. Your own enjoyment of them might depend on your personal mileage for acres of widdling jazz-funk synth soloing, but for this night Galaxians provided a fine warm up.
Appearing tonight with slicked back hair and slicker riffs, School of Language has evidently become David Brewis's place to indulge his inner pop star – an impression only reinforced when he and his band launch into the taut funk of new album highlight Dress Up. With a new five-piece live incarnation of School of Language debuting tonight as well as the Old Fears material, this could have been a tentative return (as David notes on stage, there hasn't been a full School of Language gig since 2008), but the groove and confidence of the new material feeds into the performance. Between The Suburbs and A Smile Cracks are major stand-outs tonight, but what also impresses is just how revitalised the re-worked older material like Keep Your Water sounds as well. This was a set that proved that School of Language now stands proudly but separately right alongside the Field Music mothership.