Interview - School of Language
School of Language - 50% Field Music, 100% David Brewis.
Something the Brewis brothers cannot be accused of is laziness. Although Field Music have taken a hiatus following 2012's career-best record Plumb, the duo of David and Peter have been immersed in a plethora of side-projects, collaborations and productions jobs – and now, David's returning to the frey with his second album as School of Language, Old Fears.
Following his 2008 solo debut Sea From Shore, a set of fine-tuned, percussion driven art-rock, Old Fears finds David Brewis exploring new sonic and emotional terrain, with his most personal and introspective lyrics to date backed by a diverse musical style that plunges into skewed funk and layers of sci-fi synths. It's an exciting and enthralling listen, and one bound to surprise and delight.
But as I said, he can't be accused of laziness, which becomes more obvious than ever when I got to talk to him on a quick break during a full day of work. "We were doing some recording today, and then we're doing some more recording tonight – we were doing a bit of a session for [Frozen By Sight, Peter Brewis' collaboration with Maximo Park's Paul Smith] and getting some double bass down. That's still ongoing: everyone's busy with so many things, and our original plan to get everything recorded after the show went out of the window really. It's kind of…nearly there? Nearly?"
Right now though, it's the new School of Language album that's ready to go, so David explained the origins of School of Language and the reason for returning to the solo moniker. "It started with thinking that it would be useful to have something where I could say, 'this is me', and to gather up everything that's not in conjunction with Peter. When I started making the first album, I wasn't sure if we would make another Field Music record, so it just felt like that was what I would be doing for the foreseeable future. But by the time I'd recorded that and we'd toured it a bit, the idea of doing another Field Music record together seemed more appealing again.
Where Sea From Shore was a record largely defined by circumstance, this time there was a clearer idea of where to take the School of Language project. "Well, I wanted to do something that was kind of danceable. I'd been able to do that a little bit on the last couple of Field Music records, but my interest in doing something that was kind of austere funk had grown, and everything I was writing was leaning in my direction. It made sense that these new songs would tie together better as a record rather than waiting a year and a half and tying them in as part of a Field Music record. It might have been a bit odd if it'd been, here's eight songs of mine you can dance in the kitchen to and eight or nine of songs of whatever Peter's been up to."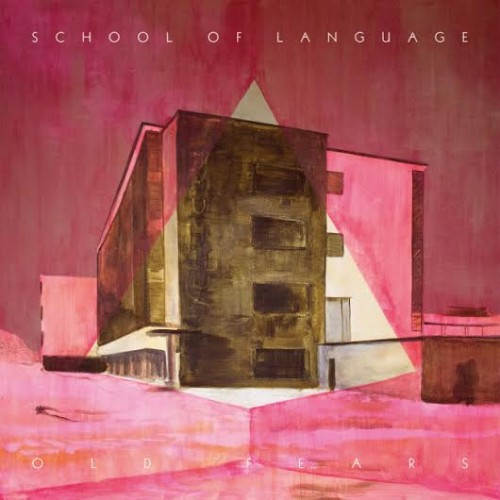 The record's lyrical themes of self-doubt, self-discovery and figuring out how to connect with the world also played a role into its development as the second School of Language album. "The lyrics did get kind of personal, and maybe more specific than I'm entirely comfortable doing. There's definitely something in that which pushes it to being something I would do on my own rather than in collaboration, just because it's kind of embarrassing to be that specific about something personal. Lots of people aren't going to pick up on that, and that's fine, but my close friends probably know what I'm talking about, so I haven't had to deal with that until people started to see the lyrics and until we started to have band practises."
The lean, rhythmic lead single Between The Suburbs offers a taste of how this austere funk has turned out, but as David notes, there's more to the album than just that. "I don't consider it to be the summation of what's going on in the record. The song for me on the record that laid out what I would do is Dress Up, which is the first one where I was anywhere near finished with the music and the one where I thought I had the sound of the record, and everything else grew out of that one really."
The album's also been accompanied by the More Fears EP, a 7" single which marries extra instrumental pieces from the album sessions alongside re-workings of Marine Life and Keep Your Water from the first album. "The idea of the EP came about because we like to give extra things to long-term fans (which had worked well with the Field Music covers album), and I had these extra pieces which didn't fit the album but which I still liked. We're loathe to rip people off, so we won't release anything that we don't like, but having this extra thing for long term fans seemed nice."
"The re-recordings came about because I wanted to do demoes for the live band of how I wanted to re-arrange a couple of the old songs. It was focused on an idea of how they could be live – I don't think it would work to have a set of half the new songs done as they are on the record, and half of the old songs done in the style of how they are on the first record. With the new stuff, I want to push certain elements of the performance of it which would take it further away from the first album."
For the upcoming tour in April, the five-piece band David's assembled is set to push himself further. "Jaf from The Futureheads is playing synths, my brother Peter's having to play a lot of electronic drum parts alongside the real parts, and for me I'm having to get used to not playing guitar all the time and just singing, which is a very different thing for me – usually all of my limbs are engaged at all times, that tends to be the way Field Music gigs go!"
Originally published in NARC 94 (April 2014).