EPs of 2013: Endless Window 2013 Review, Part One
...what do you mean, everyone else has already published theirs?
With the end of the year hurtling towards us once again, the music industry has gone and done what it normally does, and gone into hibernation for the winter, with only a glut of needless greatest-hits and reissues and the onanistic staple of the end of year list to keep it company.
As just another (albiet rather small) cog in this pitiful machine, Endless Window is of course ready to join the self-abusing fray. Over the next couple of weeks or so, we'll be looking at the best tracks, EPs and LPs that 2013 has brought us. Although these will be list pieces like the rest of them, the hope is that as this all comes together, pictures large and small can emerge from the rubble. In 2013, music has been as divisive, as communal, as complacent, as surprising, as perma-shifting as ever. Hopefully these pieces will either introduce you to new sounds, or make you re-consider work that you already know.
First up, we'll be looking at the Endless Windows top ten EPs of the year. As a format, the EP often gets unfairly negelcted, neither as direct as the single or as meaty as a full-length. The hybrid nature of the format can allow artists vital room to experiment and play around, to push themselves forward just out of the spotlight or simple to cut the crap and get to the good stuff. and this year has seen some fine examples of what it can offer. (So fine in fact, that EPs by the likes of Autechre, Laurel Halo and Parquet Courts ultimately failed to make the final list.) The ten EPs that made it though all stand out as superb releases more than deserving of your time and money, whether you are a believer or a denier of the joys of the extended player.
10. Yellow Creatures - Nature of the Beast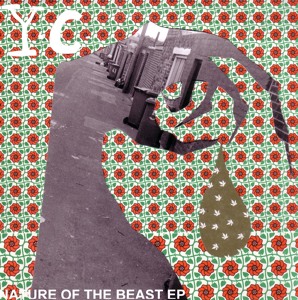 Starting things off just nicely for us are this brand-spanking-new Newcastle quartet, who have emerged over the last year to become purveyors of whip-smart, intelligent post-punk that nods to its pub rock and garage roots whilst also looking forward into stanger, more surreal territory. Their remarkably drilled, un-fuckable live show remains the best way to get the full Yellow Creatures experience, but their debut EP Nature of the Beast brings some of their current set back to the house rather nicely. Drop Anchor is a fine, surfed-up instrumental opener, before the muscular title track looks the tedium of the daily grind square in the eyes and drags it kicking and squealing to riff nirvana. On the second half, two slower tracks show the diversity and humanity of the act, with the pseudo-confessional Before The Flickering of Shadows standing out as a track a younger Howard Devoto would have sold his grandparents off to have written. How the hell does a band burst out of the gates with something this assured, this determined?
9. Matthew E White - Outer Face
The deluxe-edition album re-release is just one of the more recent ploys introduced by a dying, cynical to the last record industry - package the same old shit with some other shit that was too shit to go out with the shit originally, and then hopefully a few more people will cough up for the larger, more grotesquely enlarged shit before they release that, hey, this is just a load of shit! Outer Face, the new addendum for Matthew E White's re-issued debut album Big Inner also released seperately on vinyl fortunately credits the listener with a bit more credulity than that. On the five tracks here, he trims and stretches his formula out, stripping away the horns and guitars to move into new, fresher minimalist space, taking the lessons of Big Inner's cosmic gospel and applying them to new, steely textures. Not just another stop gap, Outer Face pushes his sound out past the sky and into the dark, enticing unknown.
8. DJ Rashad - Rollin'
Be it through being signed to the ever-reliable Hyperdub label or whatever else, but DJ Rashad emerged in 2013 as the 'acceptable' face of footwork, the breakthrough act that could take the sound to the masses. Falling on the side of lathered-up maximalism rather than austere minimalism, the hard-hitting sound DJ Rashad pulls from may still not be for all tastes, but for those wanting their dance music with more feel and soul, the Rollin' EP served as a fine introduction for those not previously acquainted with the scene. Over four rushing tracks, DJ Rashad brings acres of lushious soul and jazz samples and pushes the tempo into overdrive for a sound that mixes its frantic nature with real beauty and heart. On EP highlight Drums Please, DJ Rashad teamed up with DJ Manny to deliver five and a half minutes of chopped-up magic, as jazzy snare rolls into effervescent, high-pitched synth lines. Joyous.
7. Zebra Katz - DRKLNG
Zebra Katz released two EPs in quick succession this year - this and
M X I I I
- it was the vowel-destroying
DRKLNG
EP that really burrowed its way into my ears. As discussed in
my previous appraisal of the release
, Ojay Morgan made ideal use of the EP format in "fleshing out Zebra Katz without having to sacrifice the intensity of his performance." As such,
DRKLNG
is a suitably murky and often antagonistic release that builds on his hard-queer performance of hip-hop, from the celeb-baiting opener Josephene Effect and the art school trolling mid-point run of LST CTRL into bubblegum pop demolition Alone Now. Admittedly, it's still best to skip over the ill-advised Ima Read remix with Busta Rhymes proving he has irrovocably lost the plot, but that rare mis-step aside
DRKLNG
takes the listener on a great tour of the increasingly fleshed out but still tantalisingly out-of-reach Zebra Katz persona.
6. O'Messy Life - Challenger
O'Messy Life have been one of the most purely enjoyable indie rock acts on the circuit for a few years now, with the smart power-pop riffs of singles like Escape Velocity and Little Vehicles proving that there's still life down there in the flannel-shirt underground. On their latest release
Challenger
however, they threw a delightful curveball with this dark, impassioned suite of minor key epics and subdued ballads. Pitching themselves in the area where Weezer could - and most certainly should - have pitched themselves in the wake of the dark-hearted Pinkerton, these five tracks mine desolation and despair for something ultimately heart-tugging and powerful. It definetely
helds its sway over this reviewer
- maybe more of you might fall for its charms now.
5. East India Youth - Hostel
Admittedly, sometimes the EP functions more as an extended trailer than anything else. In a way, that's certainly what East India Youth's debut release Hostel did, exciting the bloggers - hi there! - and critics with its eccentric, individual investigation of electronic strains past and present and embrace of full-blooded pop songwriting filtered through a left-field palette. But when the three tracks are as strong as these, it seems churlish to complain. The A-side provides the fluttering pop thrills, with Looking For Someone and Heaven, How Long taking the dramatic OMD sound and pushing it into the heart of the twenty-first century, emerging with dazzling synth-pop gems bursting at the seams with lovelorn fervour. Flip over, and the Anglicised motorik of Coastal Reflections plays out as psychogeographic rave, the Trans-Europe Express reimagined in the South of England. With his full-length Total Strife Forever just round the corner, East India Youth is bound to be one of the big names of 2014 - now you can say you heard him first.
4. Acrobatic Society - Kick Me, I'm Down
The manic energy and incisive fury that fuelled Acrobatic Society have, for the time being at least, sadly seen the band fall apart. Just before they did though, they finally managed to capture some of the live brilliance on the stunning
Kick Me, I'm Dow
n. As opener Deek It weaves its way round the speakers with its Balkan spin on the Sonic Youth school of guitar, Acrobatic Society go for the juggular from the off and see no reason to let you off the hook for the duration. Quasi-title track Attention Deficit (well, it mentions the title in the lyrics anyway) sees bass and violin dance a vicious duel as it outlines a distinctly modern strain of alienation and disengagement, Pink and Only Cholesterol Can Brea Out Hearts tip their toes in ambient electronica, and Surgical and Death Industry display a strain of grandiose indie rock that avoids the usual easy tricks in search of something more true. When
I reviewed it back in February
, it sounded like the harbinger of a great future. Instead, it'll have to serve as one hell of a tombstone.
3. FKA twigs - EP 2
FKA twigs - once plain old Twigs, now no longer - is playing games with us. There she is, hiding in plain sight on the cover of EP2, staring us right in the face but refusing to let us meet her gaze. Alongside producer Arca, the artist rarely known as Tahliah Barnett has crafted a paranoid, sleepless sound that stands seperate even from the current wave of alt-R&B acts. These four tracks follow the artwork's cue, appearing seemingly bare and straightforward, yet always keeping something vital back. "He won't make love to me now / Not know I've said the fee" reveals FKA twigs, as Water Me slowly chugs and whirls into something approaching life, its haunting narrative of need and control matched by the disembodied vocal samples swimming along in the background, a depressive spiral that still lurches towards beauty. Papi Pacify meanwhile takes the nocturnal feel of Massive Attack circa Mezzanine and finally puts a new spin on it, a task of which even Massive Attack fell short. With all the heft and drive of exquisite short stories, the songs on EP2 feel like brief glances into ordinary yet unknowable lives.
2. The Fall - The Remainderer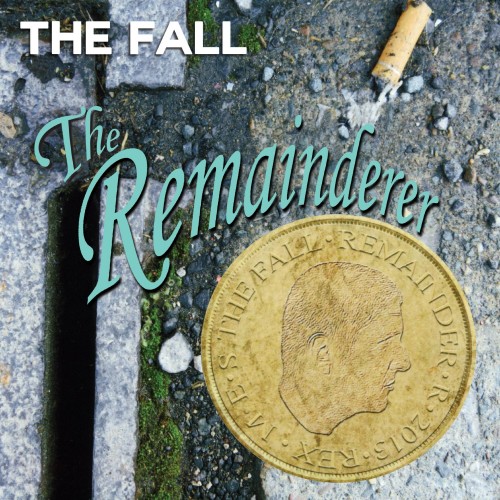 Hey, boys in bands! How does it feel that that old drunken git - that weird-looking one you and your magazines sometimes doff your caps to, but mostly just snigger and sneer at - continues to totally outstrip you in imagination and verve, and is once again leaving you trailing in a race you're too bloody thick to even notice is going on? After 2011's sludgy Ersatz G.B., the knives were out again for Mark E. Smith and his merry band (and given that he's now had the same charges for six years, on ehas to assume things are rather more merry in The Fall's camp than previously). This year's Re-Mit album saw them strike back with a diverse, enthused collection packed to bursting with ideas and vitality, and now they end the year of the real high of The Remainderer. Even stronger than the full-length which proceeded it, this 10" shows The Fall getting their weird back, from the galloping sci-fi rockabilly of Amorator!, Rememberance R's hilarious railing against reformed bands (and given his bloody-minded perseverence over the year, Smith might be one of the few in the industry who can honestly lodge such a complaint), the enthralling chug of Mister Rode and the gloriously fried closer Touchy Pad, which marries an ever-shifting arrangement to one of Smith's most inscruitable lyrics to date - and did I mention the woman screaming "Where's my time machine?" all over the place? To doubt The Fall is to doubt the power of rock'n'roll, and with The Remainderer they prove it to be an art form more malleable, challenging and intelligent than any young pretenders could ever comprehend.
1. Burial - Rival Dealer
Well, there had to be one advantage of falling way behind schedule in finishing these things off. Here to lay waste to any pre-planned end of year lists and coverage is the latest Burial release, a grand Christmas treat that - following in the footsteps of last December's Truant/Rough Sleeper 12" - suggests there might be a new holiday tradition for the dance consogenti (A Christmas Gift for You from Will Bevan, anyone?). In the wake of 2007's masterful full-length Untrue, Burial has become the foremost exponent of the EP format, eschewing the publicity and expectations of an album-length follow-up to instead deliver a steady stream of new work at his own pace, direct to his fans. From 2011's Street Halo onwards, his recent EP work has seen him deliver elongated, suite-like compositions that push at the barriers of his well-defined aesthetic, with each new release representing the latest development in his painstaking process of R&D. On Rival Dealers however, Burial has detonated the Burial sound.
While his music had always been more diverse and involved than the "night bus at 3am on a rainy Sunday morning" cliche, over the course of this latest EP he pushes his sound to the brink before clearing it away to reveal something new, more directly emotional. The title track is the fastest, most hard-hitting beat Burial's ever produced, titlting towards discordant drum'n'bass and hip-hop producer AraabMuzik, whilst the ever-present chatter of vocal samples and vinyl crackle threatens to overload. It's a track that's at once oppressive and empowering, whether you choose to let the rampaging beat walk over you or if you instead to listen to the comforting voices telling you it's okay. Around the seven-minute mark, the tracks falls into an ambient coda, more typical of Burial than the preceeding blast.
Turn to the B side though, and it's eighties synth-pads and gentle chord sequences all the way - and what the hell is that at two-and-a-half-minutes in, a straight-up power ballad drum setting? Hiders has already become the most controversial track in the Burial canon, and it certainly flirts with disaster in its embrace of smooth 80s pop sounds. Yet in Burial's hands, these wallpaper muzak sounds gain new life, and after the harshness of the A side, we find a new message to Burial's work - consolation. There has always been cracks of light amidst the dark before, but Hiders is pure consolation, hard-won happiness rising up from a melancholic bloom. Come Down With Us takes this message down to the streets of Burial's re-imagined South London, with dirty bass tones and sitar riffs intwining with the motivational samples and optimistic, almost naive new age synth tones that float in and out of the mix. It's a breathtaking production, one that by all rights should be a conflicted mess but ends up as a moving triumph. The city sickness and isolation is still present, but now the hope and community that urban life is present, and as the track shifts again into a rushing power ballad embrace, the hope wins out this time.
Burial has issued a rare, brief communique concerning the EP, describing it as a collection that "could maybe help someone to believe in themselves, to not be afraid, and to not give up, and to know that someone out there cares and is looking out for them." It's a sentiment that may be too easy for some, and the sounds Burial uses to present it might be too camp or kitsch for the dubstep purists. Rival Dealer succeeds - triumphs in fact - because it recognises that sometimes difficult, complicated feelings and realities lie beneath obvious statements, behind common human emotions. It stands as a perfectly-sized artifact, one that can trace a great emotional narrative yet remain manageable, accessable, inviting.

Burial is using the fact that he's become one of the few artists of the internet age to breed genuine devotion to reach out to his fanbase and unite them. How many Burial fans have felt a moment of depression yield itself to beauty while listening to the coda of Ashtray Wasp? How many people have been touched by the choirs on Archangel, have had some moment of beautiful and terrible solitude with In McDonalds? Those great personal moments we have had with his music now come together as one on Rival Dealers, as were are told finally and for certain we are not alone. And this is the record that brings us all together, that consoles us all, twenty-eight minutes of mechanical emotion, programming straight from the heart. Isn't that all we could have ever asked from a piece of music?