Top 12 of 2012
To start things off then, here's a quick run-down of 12 of my favourite tracks of 2012. An arbitary number, sure, but then aren't these lists always arbitary anyway? Just to make clear: this isn't the same as my favourite artists or albums (although inevitably, there is a certain overlap), and they aren't presented in any order than one that made sense to me as a playlist. This is just a look at some of my favourite songs from the last year. Click below to see what made it and for a link to a playlist.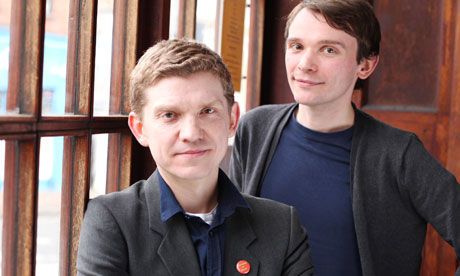 1) Field Music - I Keep Thinking (About A New Thing)
2012 was a fairly remarkable year of Sunderland's favourite siblings Dave and Peter Brewis. At the start of the year, their fourth album Plumb was released to critical acclaim, with many publications and listeners rating it as their finest work to date. As the year progressed, they amassed more fans and more attention for their idiosyncratic, articulate guitar pop, culminating in a nomination for that year's Mercury Prize. Album closer and lead single I Keep Thinking (About A New Thing) was perhaps the best distillation of the thought, ingenuity and heart that made Plump such an endlessly playable work, not to mention a gnawingly catchy guitar hook.
2) Tindersticks - Chocolate
Tindersticks may never have recorded a bad album, but even their most ardent fans had to admit that it had been some time since they had ascended to the same realm of casual brilliance as the stunning triad of albums with which they had made their name in the nineties - Tindersticks, Tindersticks II and Curtains. With half of the original line-up having departed prior to the sporadically rewarding but fundamentally uncertain efforts The Hungry Saw (2008) and Falling Down A Mountain (2010), it seemed clear that the decline was permanent. Yet on their ninth album The Something Rain, the revamped line-up suddenly found their feet and made the most audacious, impressive Tindersticks record in fifteen years, and the spacious, lengthy opener Chocolate summed up just how Tindersticks had recovered their dark mojo. With Stuart Staples' inimitable croon substituted for an engaging, surprising monologue from organist David Boulter, over nine minutes the band conjure up the kind of bleak bedsit romanticism that was always the band's trademark. Risky and yet unmistakeably the work of Tindersticks, Chocolate was the sound of a band roaring into a form they'd not been in for years.
3) Grimes - Oblivion
From relative obscurity to sell-out crowds and media frenzy, Claire Boucher a.k.a. Grimes had a meteoric 2012. Her 4AD released third album Visions propelled her to a whole new audience as she became proclaimed the sound (and look) of the year. While there may not be anything revolutionary in her sound itself - there's not a huge amount here that The Knife hadn't already covered, to name but one example - there was an incredibly refreshing attitude here. Rather than considering the underground and the pop mainstream as two seperate entities to be crossed between or to transfer over from, the music of Grimes refutes any such division and asks that we consider them as one in the same, equal parts blog house and classic Madonna. Oblivion was the calling card then for online modernity at its finest: the history of modern culture, popular and un-popular, all smashed together and swapping outfits. And that synth line two and a half minutes in? Hell yes.
4) Zebra Katz ft. Njena Reddd Foxxx - Ima Read
If you trust Pitchfork, then 2012 was the year that hip-hop officially went gay. There's many, many objections one could level at this argument (really, are we forgetting
that incredible Lil' Wayne condom advert
?), but one thing in their defence is that the most memorable, insistent rap debut of the year was well and truly out of the closet. With its pounding, metronomic beat and the juxtaposition Zebra Katz's laconic drawl and Njena Reddd Foxxx's fighting talk, Ima Read took old dancefloor slang from the days of voguing (in which to 'read' someone is to challenge someone to a dance battle, fact fans) and came up with one of the most fresh and compelling tracks of the year. Queer history pseudo-hidden as a twisted pro-education anthem, this was a debut to savour.
5) Chromatics - Kill For Love
For a fad that hit its peak back in 2007, the italo house revival had a pretty good year. The use of plenty of Italians Do It Better artists in the soundtrack for the Instagram style Gos'-'em-up Drive certainly had something to do with it, but the more than welcome emergence of Chromatics' long-delayed opus Kill For Love surely also played its part. Taking their sound to new epic extremes, the double album was unmistakeably both band and label's finest work to date, with Johnny Jewel incorporating pristine pop, shoegaze, lengthy ambient interludes and Neil Young covers to produce something that had both a sonic and an emotional reach far beyond what anyone could have predicted. And at the heart of the record? This stunning title track, matching Ruth Radelet's quiet yet insistent vocals to layers of soaring guitar and synth. Forget choosing between aesthetic and meaning: this thing had them both licked.
6) Cloud Nothings - Wasted Days
Talk about the quiet ones. The first time around, Cloud Nothings were the bedroom project of Dylan Baldi, pumping out pleasant but hardly earth-shattering dream pop. But with a full band behind him and Steve Alibi on the decks, he came back in 2012 with a new vision for Cloud Nothings - darker, heavier, more ambitious and unmistakeably miles ahead of what he'd done before. The epic centerpiece of third album Attack on Memory, Wasted Days took the influence of The Wipers that pervaded over the LP and came up with a punk goliath, a nine minute beast of furious catharsis. Live, this track would evolve into a fifteen minute My Bloody Valentine-esque noise rock goliath, but on record it was a kind of primal Marquee Moon - an anthem pushed into the ranks of greatness with a mesmerising instrumental interlude and brilliant riffs.
7) Death Grips - Hacker
Now Death Grips certainly made plenty of headlines in the last year, what with cancelled tours, controversial album art-work, self-leaked albums and a dramatic split from major label Epic Records. But easily the most remarkable thing was the two blistering, intense full-lengths that emerged, the officially released The Money Store and its cock-adorned follow-up NO LOVE DEEP WEB. While they may take the generic guise of a hip-hop act, with furious frontman MC Ride backed by producers Flatlander and Zach Hill, in actuality they're maybe the closest we've come to a true spiritual successor to Atari Teenage Riot. Their intense electronic production and insurrectionary lyrics certainly fits the bill, and on The Money Store's equally antagonistic and energising closer Hacker, they came up with something more than equal to ATR's greatest peaks.
8) Future of the Left - Robocop 4 (Fuck Off Robocop)
Humour and music have never had the best relationship. Maybe it's the shared cultural trauma of so many godawful novelty hits, or the fact that so many musicians just aren't funny in the slightest. That's no excuse to turn away though when a band is both a) musically adept and b) utterly fucking hilarious. Case in point: perpetual underdog Falco, whose current band Future of the Left hit a peak of musical insanity and comedic genius on the song Robocop 4 (Fuck Off Robocop). Marrying thick punk-metal guitars to a one-liner stuffed rant against Hollywood mediocrity, it was as ideal for headbanging as it was for hysterically laughing along to. And seriously, that just has to be the best song title of this year, or indeed any other.
9) Frank Ocean - Bad Religion
Phew. Well, don't know about you, but I could certainly do with a breather after that one. Thank goodness then for Frank Ocean, who, this year went from 'the one who can sing out of Odd Future' to a bone-fide pop sensation on the back of his diverse, stylish, heartfelt album Channel:ORANGE. It's an album with plenty of highlights - the ambitious prog R&B of Pyramids, the slinky Super Rich Kids, the Andre 3000 featuring Pink Matter - but the crowning achievement was the gorgeous, aching ballad Bad Religion. Combining affecting lyrics, glossy gospel-tinged production and a powerhouse vocal performance, this track showcased the full extent of Frank Ocean's talent, and became one of the year's most powerful and heartfelt artistic statements.
10) Perfume Genius - Hood
The debut Perfume Genius album Learning was a small, subtle act of lo-fi songwriting that tugged mightily at the heartstrings. For follow-up Put Your Back N 2 It, the production values may have been upped, but the vulnerability and intimacy that made him so compelling was thankfully kept firmly in place. The closest thing to a 'rock' song he's written to date, while Hood's tempo and crashing drum conclusion might have threatened to crush the confessional quality of his work, they only served to highlight Mike Hadreas's passionate, quavering voice and the simple but compelling nature of his work, and confirmed that the beauty of Learning was no one off.
11) M.I.A - Bad Girls
After 2010's distinctly underwhelming, forced Maya, it was evident that M.I.A. needed something pretty special to come back with. Although follow-up album Matangi still awaits release, the one new release of 2012 did plenty on its own to bring people back into the fold. The success of Bad Girls was that with its Middle Eastern dancehall beats and cocky M.I.A. rap, it took her away from the dull conspiracy theories of Maya and back to the globe-spanning dance dominance that made her a sensation to begin with and without seeming like a rehash of former glories. Bad Girls was everything that we loved about M.I.A. to begin with, but stated with boldness and freshness.
12) Leonard Cohen - Going Home
As we round off the top twelve, it seems right that we leave the final word to an elder statesman. And who better for that than the distinguished gentleman that is Leonard Cohen? His unexpected return to live performance in 2008 turned many new listeners onto the unique beauty of his words and music, and reaffirmed the staggering accomplishments of his career to date. With Old Ideas though, the affirmation of this euphorically-received world tour was translated into a warm, clever and spiritual collection of new material that addresses his usual preoccupations of religion, sex and the search of meaning with a wise, gentle touch. Album standout Going Home is an achievement equal to any in his catalogue, confronting ageing, finality, death and the artist muse with philosophical wit, his aged baritone sounding more than ever (even to an atheist like myself) like the voice of God itself. Surely, there can be no better way to round off this selection than with something this majestic.
To listen to the playlist, just click here: http://8tracks.com/fluorescences/12-for-2012